Client: Liberty University
, Professor:

Brianna O'Neal
Master of Visual Communication Design

Work: A to Z, Concept, Research, Sketch, Illustration, Presentation
Les Misérables Novel by Victor Hugo
Inspiration, Brainstorming, and Initial Thoughts
I drew covers of multiple volumes of the novel "Les Misérables" by Victor Hugo.
A story of a good man went to prison, although he gets released but stays all his life followed by his past. After 19 years as a prisoner, Jean Valjean is freed by Javert the officer in charge of the prison workforce. Valjean promptly breaks parole but later uses money from stolen silver to reinvent himself as a mayor and factory owner. Javert vows to bring Valjean back to prison.
Eight years later, Valjean becomes the guardian of a child named Cosette after her mother's death, but Javert's relentless pursuit means that peace will be a long time coming.
The story falls in the time period of the French revolution in the 1800s.
I was confused between two things, I thought of doing one of the movie franchises of multiple sequels which are based on books. such as Godfather, Harry Potter, The Lord of the Rings, The Matrix, Terminator, Jurassic Park, Twilight, Hunger Games, Planet of the apes, or Chronicles o Narnia,.. etc.
I also thought to do a classic novel of multiple volumes or parts like the very popular
French novel (Les Misérables) by Victor Hugo published in 1862, which is considered one of the greatest novels of the 19th century. For some reason the idea I was obsessed with was to create those covers in a cartoonish style, I think maybe it's because I love cartoons.
I picked the novel because it touches me personally for many reasons, I grew up reading
Les Misérables and I fell in love with the characters, Jean Valjean, Cosette, Fantine, Marius, Gavroche, Éponin, even Inspector Javert was phenomenal in the novel. I watched the novel made in multiple cartoon shows and they were very inspiring and touching. I also watch multiple films and remakes of it, the latest was the musical movie in 2012 directed by Tom Hooper that remake got many rewards. I've also watched the Tv series as well in 2018 directed by Tom Shankland, but I liked the movie better, and the cartoon animation I liked the most was the one I grew up with was an episode of the TV show Manga Fairy Tales of the World (or Manga sekai mukashi banashi) produced in 1967.
In my sketches I tried to show different styles and angles of layout and drawing and
type/lettering; the first option was childish cartoon drawing, the second was cartoon close-ups portraits almost manga-like, the third was classic with realistic comic drawing, the last was abstract Victorian patterns and lettering, I included in my sketches six sketches for each option, I also included the covers, the series collection box that holds the five volumes together, I included process sketches and experiments.
In this project there were some challenges, like exploring and researching the lifestyle of the 1800s, rereading the plot of and main events on the novel and re-imagining them for covers, doing a lot of researching of different covers of books and comics, movie and TV productions and animations of that story, I re-watched a few of them to get inspiration. I was also looking for typefaces of that time period. I actually went out and visited bookstores and I spent time flicking thought all children-books on the shelves and taking photos, just to come up with an art that simulates that era and ads visual interest to the covers for readers to read, this took way longer time that I expected, and I unfortunately couldn't re-sketch or improve my sketches.
In option one, I used the concept of the smiley and sad face as a pattern on the box and across all volume covers, Jean Valjean's fist was also on most of the covers. I used the popular art of Cosette holding the sweeper, I also liked to show the child Cosette holding Jean Valjean's big hand after he got her the doll she always wished for. The angles are all further close-ups, I was trying not to show Jean Valjean's face, thought this character represents good, and mercy, and kindness specially that he was involved in charity work throughout the story that he didn't want to reveal himself.
In option two, I drew a cartoon style portrait, manga-like, I used a different angle this time, that shows the shoulder of the characters, represents emotions and thoughts, like fear, looking back to the past, sometimes I used that angle to show love and support, or happiness, or even death or grief.
In option 3, the concept was using the glory of Paris through the Arch of Triumph to frame my art, I used comic style, this is the only option I showed inspector Javert, I thought he'd look great in the background through the gate, I used a ribbon, thought would give a feel of the era as well.
In option 4, a symbolic, minimal approach, but I also thought I'd love to see a pattern at a
percentage, basically with the Victorian typography of the era. On the main cover/box, I showed and icon of a hat and loaf of bread to summarize the story of Jean Valjean that had to steal bread to feed his mom and siblings and went to prison over that and continued all his life running away from that loaf of bread he stole one day even after he started over and became a wealthy businessman. The rest are icons of a pair of scissors for Fantine losing her hair, heart, a fist for the revolution, and finally a flying dove, to represent peace and freedom for the last volume of the novel.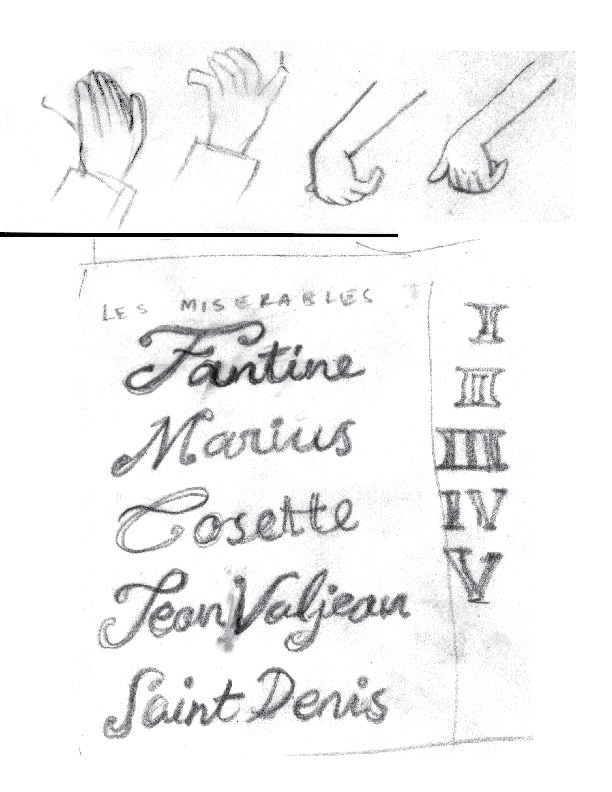 Below is the color palette I selected for my covers, colors are medium tones lean more towards vibrancy, although the novel included multiple depressing events about the prisoner Jeanvaljean and the mother Fantine, but the theme stars to become more vibrant as we go to the latter parts of the novel.
    There was a lot of moments of drama, a lot more moments of emotion, excitement, and passion, the main colors for the novel are the French flag colors which I used for the 5-volume Set, warm dark blue, pale white.
    I used purple and yellow for Fantine Vol.1, she was sick and suffering, Valjean was out in the darkness after 19 years in the prison, also in this part, you see states of humanity in different forms, the vanity of the rich society collides with Fantine's modesty and need, the the arrogance of Javert meets and refraction of Valjean. 
    In Cosett's part, I used teal and pink colors to represent innocence and childhood, while in Marius I used colors of passion, pink and red of him falling in love with Cosette at the first sight, also represents rage when joined the French people revolution. In St. Denis part I'm using colors of fire, red and yellow, yellow represents Ponine's jealousy and on-sided love to Marius.
    For the last part I used teal and yellow, teal for peace and tranquility and yellow for illumination that Valjean reaches too upon his death leaving his Cosette peacefully with her beloved man Marius, and joining Fantine into God's grace.
Screenshots from the Illustration Process
Final Vector Illustration:
Some details show techniques like gradient grains and brush strokes.