Website, brochures, direct mail, videos, event/exhibition, branding style guide.
CLIENT: ASHA Multicultural Affairs and Resources
TEAM: The In-house Creative Media Team at ASHA (American Speech Language Hearing Association)
Final
Diversity Website 2.0
Campaign strategic objective:

To increase representation, diversity and inclusion of ASHA members in all areas, gender, age, and ethic groups.
CREDITS: ASHA In-house Team:
Creative Team: Firas Bachi (concept, research and design, UI/UX and interactive design and prototype, art direction, visual styles, website design, brochures, collaterals and exhibition design), Martine Stein (creative supervision), 
Production Team: Ben Sledge, Gabriel Amadi Amina (Videography and photography, motion graphics).
Content & Copy Team:

Keisha Jones (Cop edit)
UX/Wire-framing: Karen Graham Cannon, Rori Kotch,
Web Development Team: Webmechanix
Representation Matters ASHA career website, diversity recruitment site, https://hearingandspeechcareers.org/ 
Across all members, the ASHA Diversity Index was 23.2% in 2021—up gradually from 20% in 2007 (see graph). The index was 29.7% for ASHA's newest group of members—those who joined in the previous five years—up from 22.5%.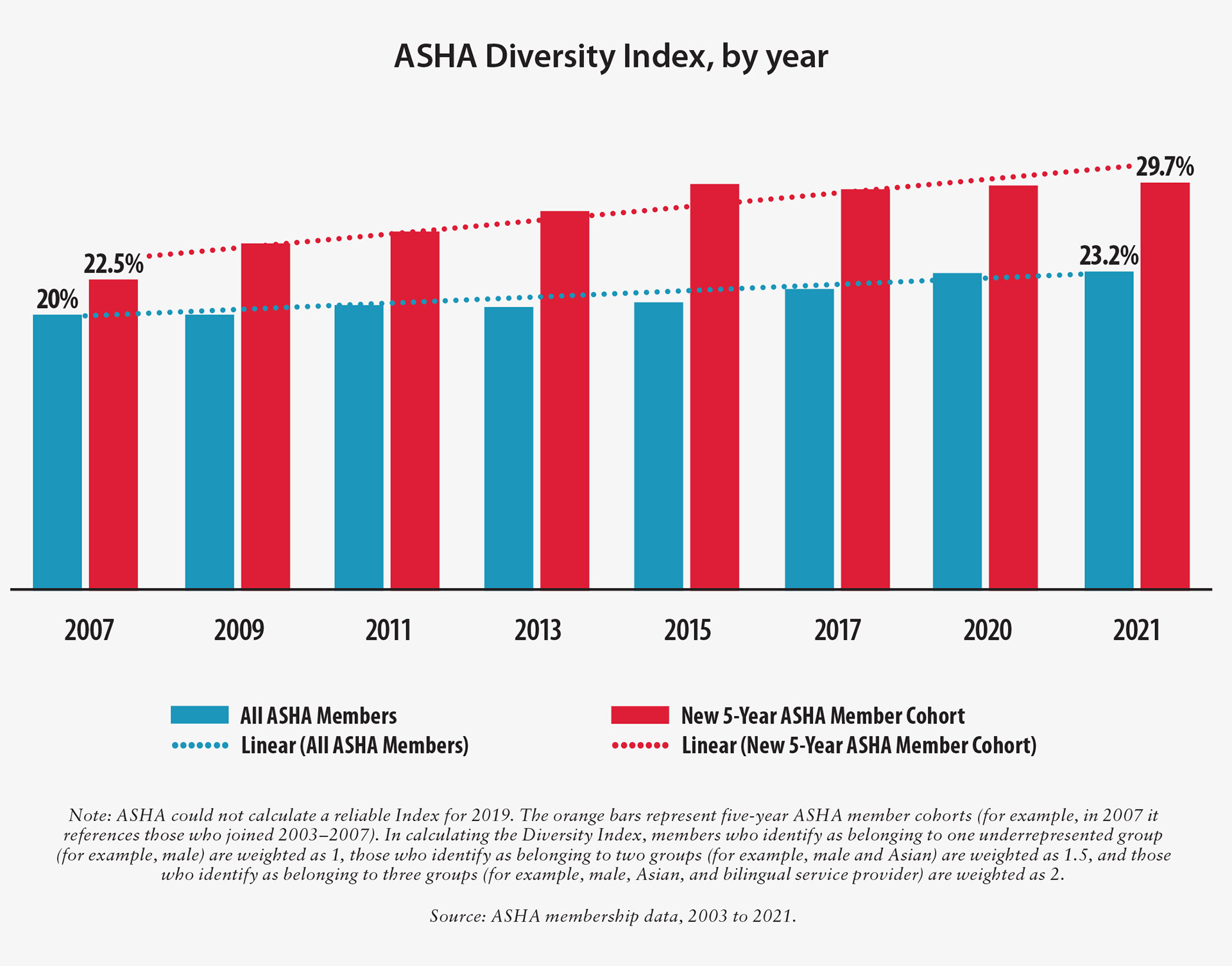 TOOLS: Adobe Photoshop,Adobe In-design, Adobe Illustrator, After Effect, Adobe XD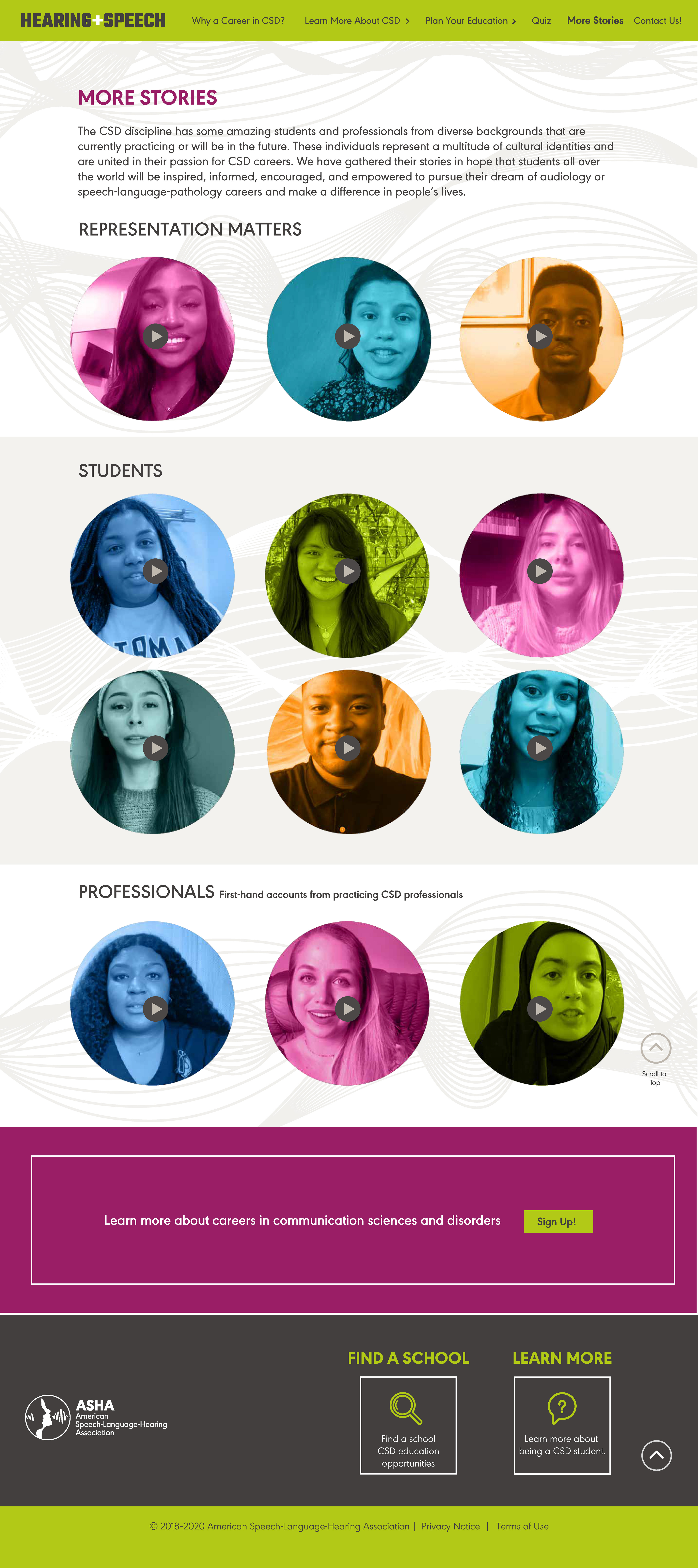 The theme of the exhibition was tailored to combine the Representation Matter style with the annual ASHA Convention style under one new message of DEI Matters! (DEI: Diversity, Equity, and Inclusion). The panel designs covers multiple campaigns done by ASHA that cover the same topic.

After 2020, social justice movements in the US led to policies and reforms promoting equality, equity, representation, and inclusion. Corporations like ASHA were encouraged to communicate as a diverse community, embracing their differences. Instead of separate caucuses.

The color palette, visual style, and patterns were altered to represent a more diverse ASHA community, demonstrating diversity, equity, and inclusion across different genders and ethnic groups.
Diversity Website & Brochures 1.0
Different Color Palettes and Motifs for Different Caucuses
The website at stage 1 was providing a dedicated communication message and experience for each caucus. This has changed on phase 2.

At this stage the focus was on cultural design, historical study and demographic data, and ethnic visual representation of each of the
major
US caucuses.
The strategy was to target
the major caucuses
in the United States individually, to engage and persuade audience and college students and graduates of those caucuses to the join ASHA and the CSD professions (Audiology and SLP) and help creating more diverse community at ASHA that can serve patients and clients and give back to their own community. 
The major caucuses as this stage based on the demographic data provided by the client were: African American, Asian Indian, Asian Pacific, Hispanic, and Native American.

Materials developed: 

Sales kit of brochures, flyers and letters, were sent directly to audience mailboxes.

Cultural-Design Inspiration & Process
This stage included developing the moodboard and graphic style; color palettes, patterns, symbols and motifs, historical and cultural study and research to each represented ethnic group. 5 different color palette were developed, all as part of the visual style of the different
caucuses, keeping in consideration the main corporate branding colors and graphic style. The process also included creating personas and finding the correct imagery and portrait photography that represent each caucus and ethnicity, that should carry throughout the campaign.